Indulge in the Sun, Savor the Season
Welcome to the vibrant world of summer flavors! As a dedicated wholesale supplier for restaurants and caterers, we understand the importance of keeping your customers delighted and satisfied with every bite they take. As the sun shines brighter and the temperatures rise, it's time to embrace the season with a collection of refreshing recipes that will elevate your summer kitchen to new heights. From zesty citrus fruits to crisp greens and juicy grillin' treats, we've curated a selection of five tantalizing recipes that capture the essence of summer in every dish.
Summer's Delight
We've talked about seasonality and locality in your menu–so get ready to embrace the bountiful produce of the season as we guide you through a culinary journey that will leave your customers asking for more. 
There's so much to love about summer menu planning: Summer menus tend to offer lighter and more refreshing options compared to heavier winter dishes. Summer often means the opportunity for outdoor dining experiences, and the vibrant colors of summer ingredients can make dishes visually appealing. 
But we also get the challenges: some ingredients, like delicate greens or certain cheeses, may not fare well in high temperatures. While light and refreshing options are desirable during summer, some diners may prefer heartier dishes or feel unsatisfied with the lighter offerings, and of course, summer weather can be unpredictable, with sudden rainstorms or heatwaves disrupting outdoor dining and affecting the ambiance and overall experience for diners.
We get the pros and cons of summer menus, and we love helping you consider these factors when designing your seasonal menus to create a balanced and enjoyable dining experience for your customers. Let's dive into these delightful recipes that celebrate the best of summer flavors!
Chicken Souvlaki Gyro
Perfect for your restaurant's afternoon lunch menu or a caterer's wedding and formal event display, Souvlaki is Instagramable, delicious and is the closest thing Greeks have to fast food–but only because of the ease and speed with which it can be prepared. Picture succulent, tender chicken thighs, paired with homemade Greek pita bread and topped with a delightful honey mustard aioli, all infused with aromatic goodness.
Souvlaki consists of small pieces of meat (we mentioned chicken thighs above) grilled on a skewer or in a gyro (meat cooked on a vertical rotisserie) and then wrapped in Greek pita with tomatoes, onions, and tzatziki sauce. Traditionally the meat is typically pork, although chicken, beef, and lamb may also be used. Check out this fantastic recipe from The Greek Foodie, and prepare to have your guests asking for more!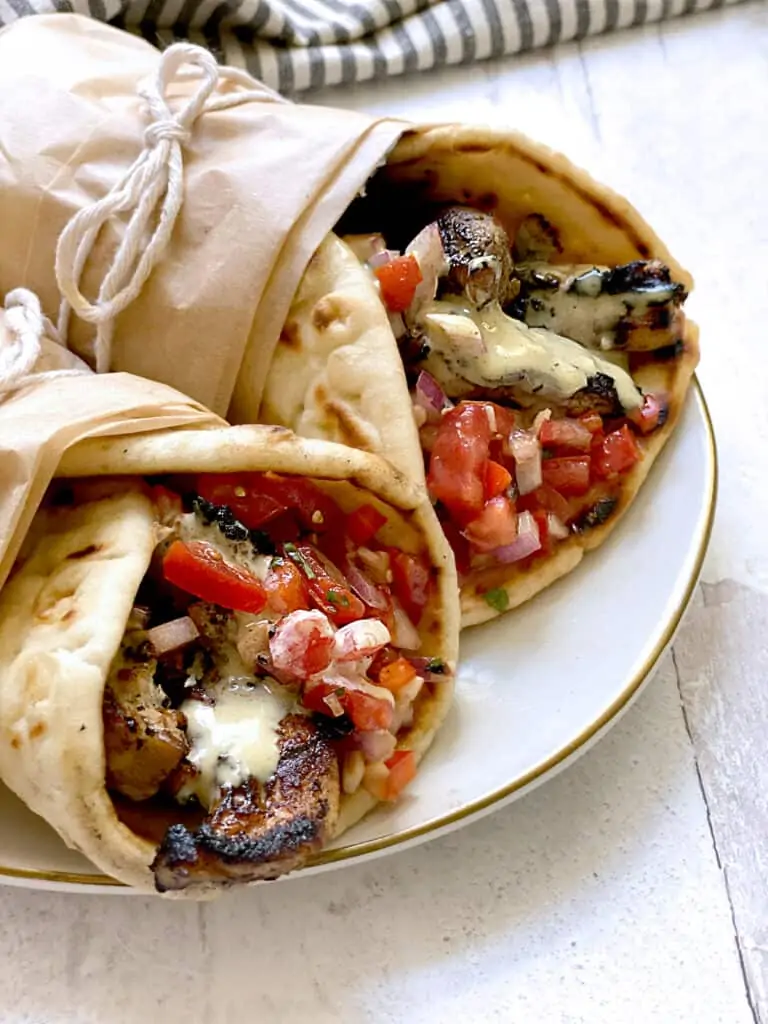 Elote (Mexican Street Corn on the Cob)
Behold the marvel of Mexican corn, known as elotes, but it should really just be known as the best way to eat corn on the cob–it truly deserves the title of the ultimate summer delight!
Imagine the delectable sweetness of sun-kissed corn, accentuated by the savory allure of salty cheese. Pair that with the velvety embrace of creamy mayonnaise and the tantalizing smokiness of chile. Topped with a fiery kick of spicy hot sauce, balanced perfectly by the refreshing burst of lime.
This remarkable combination from Kitchen Gidget captures the very spirit of summer, an unrivaled sensation that lingers on your palate, captivating your senses and beckoning you to savor the season to its fullest.
Grilled Shrimp With Garlic Butter Dipping Sauce Recipe
We know shrimp is on your menu somewhere, so during the summer season, savor the mouthwatering delight of grilled shrimp paired with a simple yet delightful garlic butter dipping sauce. Crafting the marinade is a breeze with this recipe from Cook the Story, requiring only a few minutes of kitchen prep while infusing the shrimp with impeccable flavors. The dip will tantalize your customer's taste buds with a harmonious fusion of butter and garlic with the option to add some zesty lemon and a hint of hot sauce and Worcestershire, ensuring an unforgettable summer culinary experience.
Creatively Topped Burgers
Summer sizzles with the tantalizing aroma of a burger fresh off the grill, the epitome of culinary delight and summer nostalgia. Yet, why settle for the mundane duo of lettuce and tomato when you can embark on a thrilling taste adventure? Check out these variations on a classic entree from The Spruce Eats, and introduce your customers to a symphony of flavors: succulent patties adorned with luscious herb butter, fiery kimchi, or delectable tapenade. There's no better time to elevate your burger game, and unleash a whirlwind of captivating toppings that will leave your customers Instagramming their plates and coming back for more.
Grilled Cheese, Bacon and Oven-Dried Tomato Sandwich
Did we save the best for last? We might have, now that you mention it. We know we've mentioned this recipe before, but it works soooooo well as a summer dish, we wanted to highlight it again. And, because, bacon. This particular dish can act as either a heavy appetizer (think smaller, slider-sized portions) or a light entre, depending on your event or menu needs. This bacon recipe from Taste of Home takes your grilled cheese sandwich to a place it's never been before with crispy bacon and tangy tomatoes and five—yes, five!—types of cheese.
And as a savory summer extra, add avocado. Mmmmm, delicious. 
Remember the part where you as a caterer or restaurateur work with your wholesaler (that's us!) to customize an order and delivery schedule that is efficient, fast, and tailor-made to your unique needs?  Wherever you're serving, for whatever type of event, Schenck Foods has competitive pricing, quick order processing, friendly and efficient staff, and rapid turnaround and delivery time. What we don't have is slow corporate hassle or an impersonal bureaucracy. 
Don't hesitate to reach out to ask a question, request special ingredients, or take advantage of our $5 delivery for all orders over $250. Now that's even hotter than summer.