Sweet Relief
It's the dog days of summer–and we're all melting. Schenck Foods is a dedicated wholesale supplier for restaurants and caterers, and we know that as a restaurateur or caterer you've been trying to help your patrons cool off and refresh. And we're here to help. 
As the sun blankets the world like your aunt's unwanted heat blanket, what better way to embrace the season than indulging in a symphony of cool desserts? From creamy galette infusions to tangy Asian mango sensations, our carefully curated list of summer treats will transport your taste buds to a tropical paradise (did I mention our piña colada cake?). So sit back, relax, and let these delectable delights with a range of ingredients from our Schenck Foods catalog become your traveling sitting-in-the-shade-and-staying-cool companions on this sun-kissed journey of sweetness and relief.
Strawberry Galette
Strawberry Galette is about to win your heart: it's like pie–but easier. A galette is a pastry that exudes rustic elegance without the constraints of a pie pan or ring. Its folded-over crust and exposed filling add character, celebrating imperfections for a uniquely charming appearance.
The abundance of fresh fruit in this strawberry galette from Ahead of Thyme is what caught our eye. Sliced strawberries, lightly sweetened to enhance their natural flavors, create a delightful balance of sweetness and tartness. (Feel free to experiment by incorporating various berries or substituting with other fruits to suit your taste).
With just 7 simple ingredients and 10 minutes of preparation (especially if you already have the pie dough ready or opt for a pre-prepared pie dough from our catalogue), assembling this treat is a breeze. Once it's all put together, let the oven work its magic, and in just 25 minutes, you'll be savoring a heavenly slice. For the ultimate pleasure, serve it alongside a scoop of our velvety vanilla ice cream.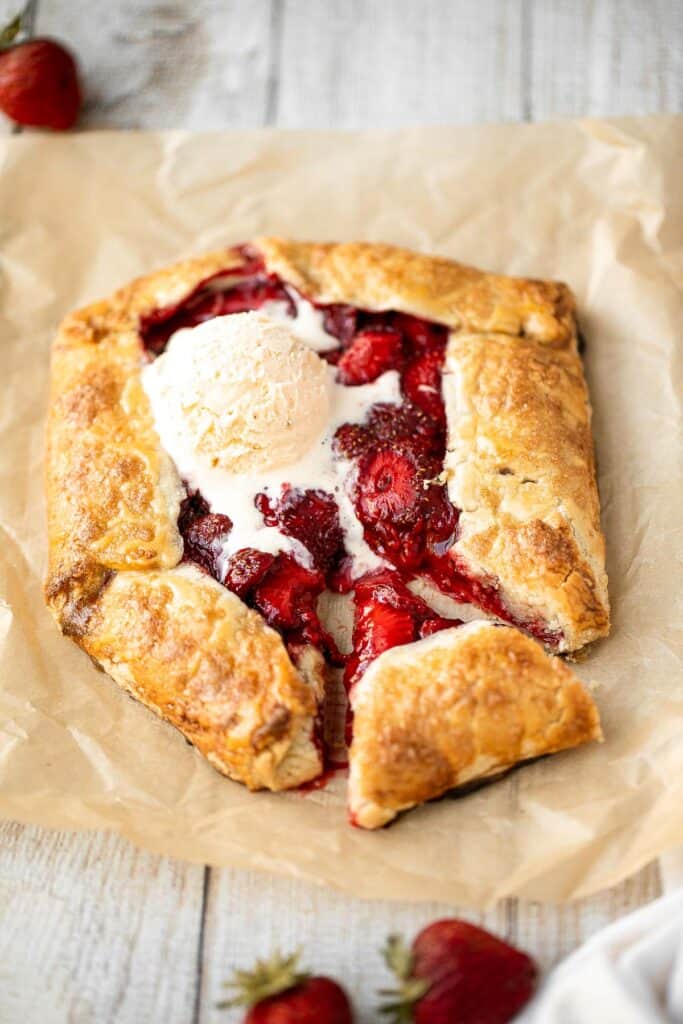 Piña Colada Cake
Prepare to be enchanted by this piña colada cake from The Pioneer Woman, which starts with an easy oil-based yellow cake. In a fun twist, instead of traditional liquids like milk, water, or sour cream, this cake receives its moisture and flavor from a can of undrained crushed pineapple. Baked to perfection in a 13×9-inch baking pan, the hot cake is then poked all over using a wooden spoon, fork, or skewer, so it can be infused with the essence of a piña colada.
The magic unfolds as this cake is showered with the tropical goodness of a piña colada mix–a blend of luscious cream of coconut, dark rum, and tangy lime juice.
Once cooled, the cake is crowned with a fluffy fusion of coconut pudding mix and more pineapple, both gently folded into velvety whipped cream. 
Chill the cake to achieve the ultimate tropical indulgence. Before serving, add the finishing touches – a sprinkling of fresh lime zest, toasted coconut chips for a crunch, and a scattering of cherries.
Now, your piña colada cake is ready to shine. Savor each cold, refreshing bite. The combination of textures and flavors is sublime and makes you want hot weather just so you can make this dessert!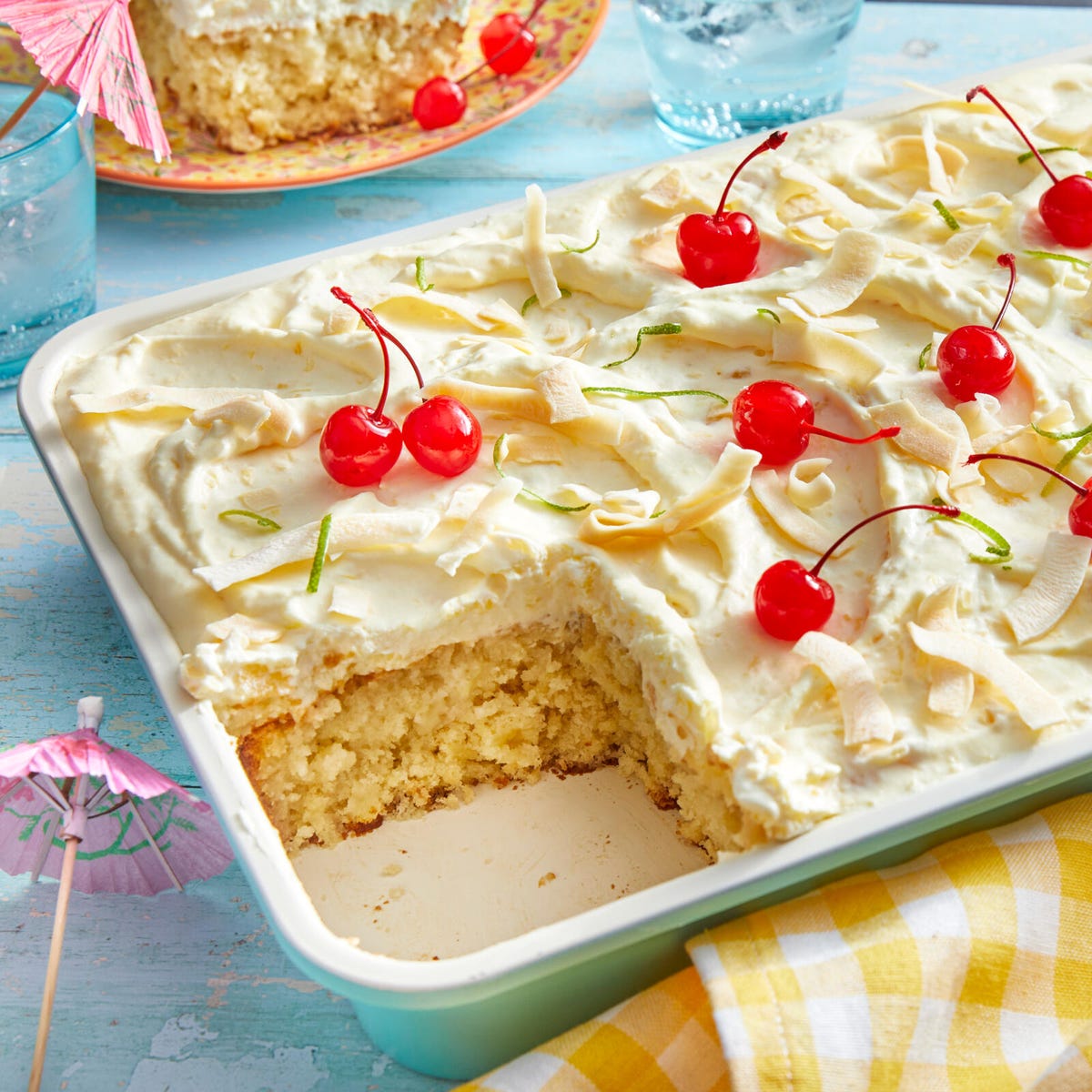 Strawberry Icebox Cake
This Strawberry Icebox Cake is one of our favorite crowd pleasers, but also a beautiful centerpiece or display–it looks amazing on your plate, and tastes great in hot weather!
Irresistible flavors and ease of creation made this Strawberry Icebox Cake from Amanda's Cookin' impossible to exclude from our list. With just three main ingredients – strawberries, whipped cream, and graham crackers – this no-bake wonder comes together effortlessly, leaving you with a dessert that will leave everyone asking for seconds.
The magic begins when the ingredients are expertly layered and left to set in the refrigerator. The graham crackers, when soaked in the sweetened cream, transform into a soft, cake-like texture. It might sound unusual for cookies to become mushy, but trust us, it works like a charm! The result is a dessert that strikes the perfect balance of sweetness, lightness, and freshness without being overly sugary.
This delightful treat is versatile, as you can swap strawberries with any of your preferred berries like raspberries or blueberries, or even venture into the realm of Oreos with an Oreo Icebox Cake variation.
The art of layering is key in this recipe, and while whipped cream from our catalog is an option, we recommend making a homemade whipped cream for the ultimate burst of flavor. Each layer of whipped cream is sandwiched between graham crackers and sliced strawberries, creating a symphony of taste and texture with every spoonful.
Whether you serve this delectable Strawberry Icebox Cake at a gathering or as a delightful personal treat, it promises to be an instant hit. So, indulge in the simplicity and goodness of this recipe, and let the flavors speak for themselves.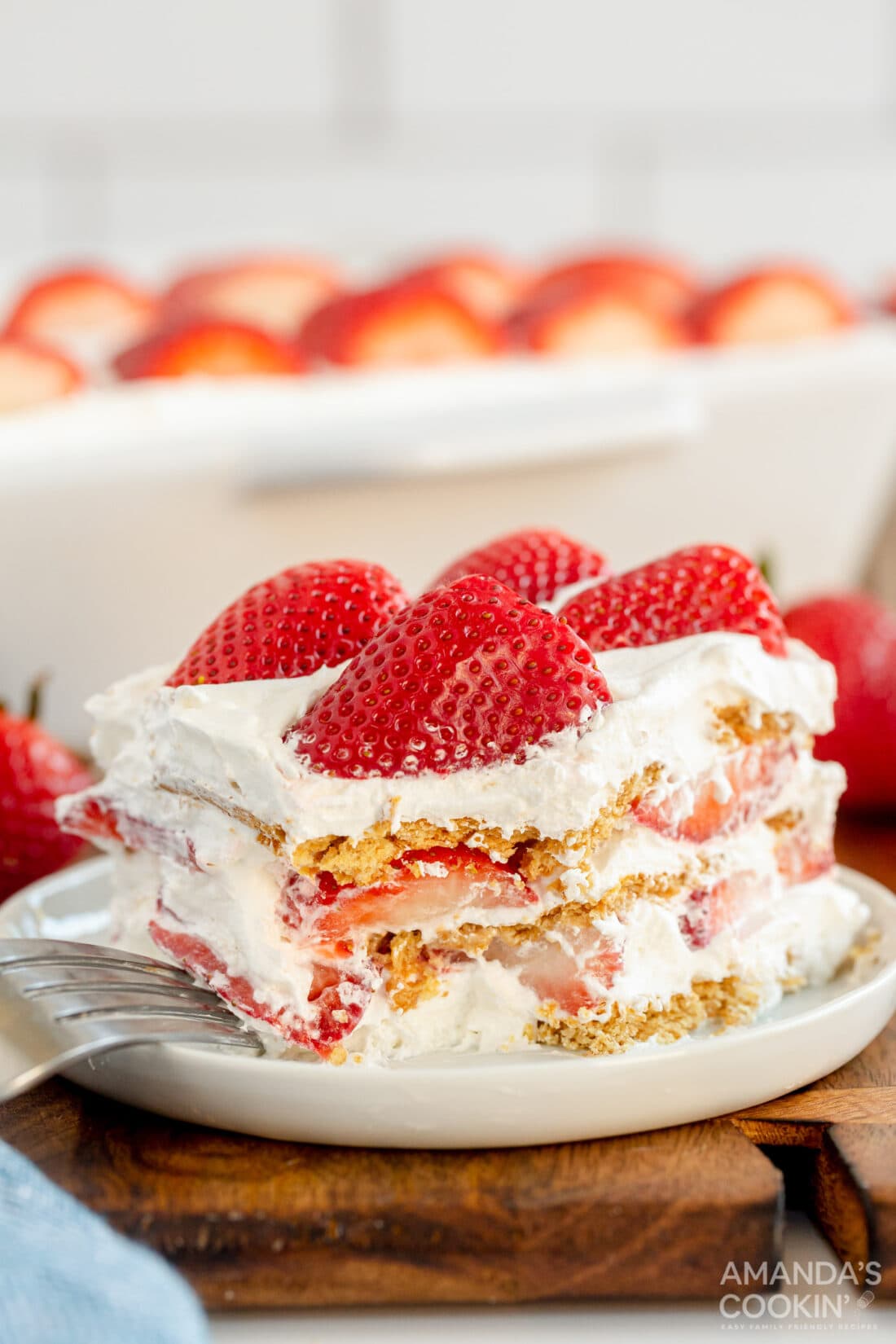 No-Bake Lemon Cheesecake
Lemon and cheesecake–a couple of our ultimate loves in this world. Especially when they come together in this delightful No Bake Lemon Cheesecake from The Recipe Rebel, which strikes the perfect balance of lightness, airiness, and just the right amount of tanginess.
Allow us to guide you through the simple steps of making this No Bake Lemon Cheesecake with some essential tips:
Ensure your cream cheese is at room temperature – this step ensures a smooth and creamy cheesecake without any pesky lumps!

Begin by beating the cream cheese until it's wonderfully smooth before incorporating the sugar, lemon juice, lemon zest, and vanilla for a flawless filling.

Whip the cream until it forms stiff peaks before gently folding it into the cream cheese filling. This ensures a thicker cheesecake.

Taste the filling before pouring it into the crust, allowing you to adjust the lemon or sugar levels according to your personal preference.

Once the filling is nestled into the crust, let the cheesecake chill overnight if possible, or at least for 6 hours. Adequate chilling time is crucial for achieving the perfect sliceability and texture.
So, go ahead and embark on this easy-to-follow journey to create a No-Bake Lemon Cheesecake that will win over your customers' taste buds.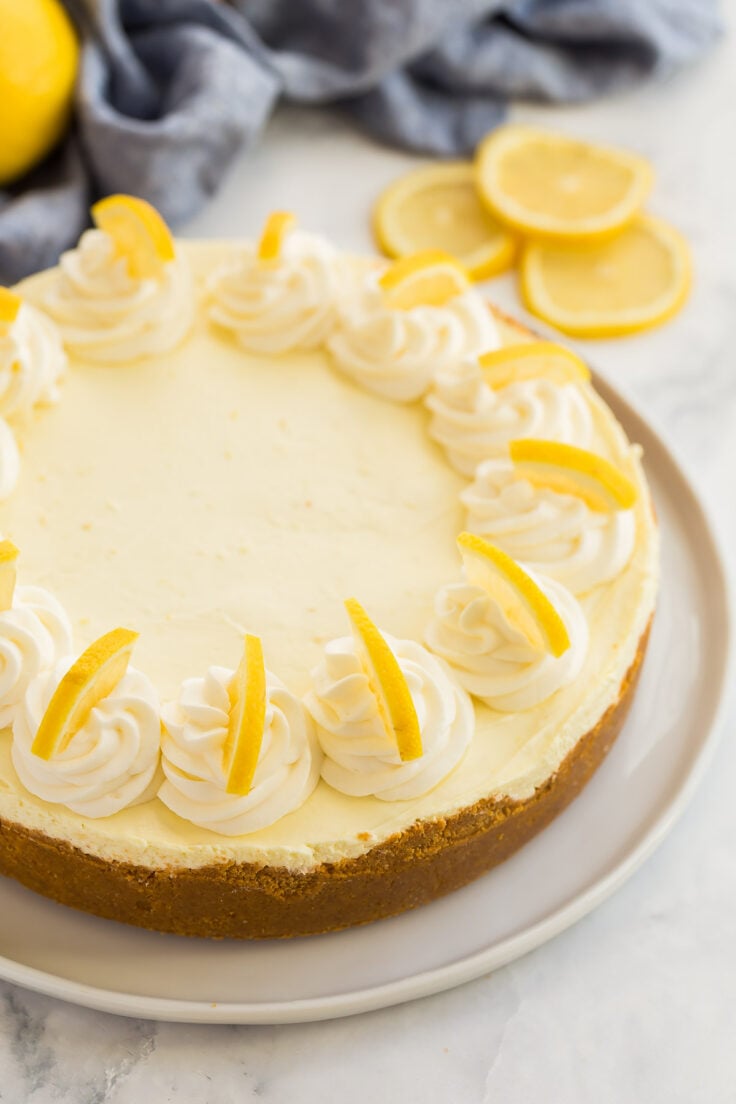 Peach Crisp with Maple Cream Sauce
Okay, okay. We love the pies and cakes…but…that's first breakfast. For second breakfast, and lunch, and dinner, we need this Peach Crisp with Maple Cream Sauce. 
Here's how easy it is:
In a medium bowl, combine flour, sugar, light brown sugar, cinnamon, nutmeg, and salt using a fork or pastry cutter.

Cut the butter into small pieces and gradually add it to the flour mixture, mixing until evenly combined.

Peel the peaches and place them in a bowl. Add the zest from half a lemon. Squeeze the juice from the lemon half and stir it in with the peaches and zest. Stir in 2 tablespoons of real maple syrup until well combined.

Pour the peach mixture into a small pan (8" or 9" square) and spread it out evenly.

Prepare the crumb topping by covering the peaches evenly with it.

Cover the pan with foil and bake at 350ºF for 15 minutes. Then, remove the foil and continue baking for an additional 20 to 30 minutes or until the topping turns crisp and golden brown.
Maple Cream Sauce:
In a saucepan, pour the whipping cream and add 5 tablespoons of real maple syrup and 3 tablespoons of corn syrup.

Stir the mixture over moderate heat until it thickens and reduces by about one-third, which usually takes around 15 minutes.

Once thickened, refrigerate the mixture until it becomes cold and thick. Alternatively, you can set the saucepan in a small bowl of ice water, stirring the mixture until it cools and thickens, which should take about 15 minutes.

Drizzle the maple cream sauce generously over the warm peach crisp before serving.
Enjoy the delightful flavors of this peach crisp with its delectable maple cream sauce. Serve it warm and relish the harmonious blend of sweet peaches and the rich, indulgent sauce.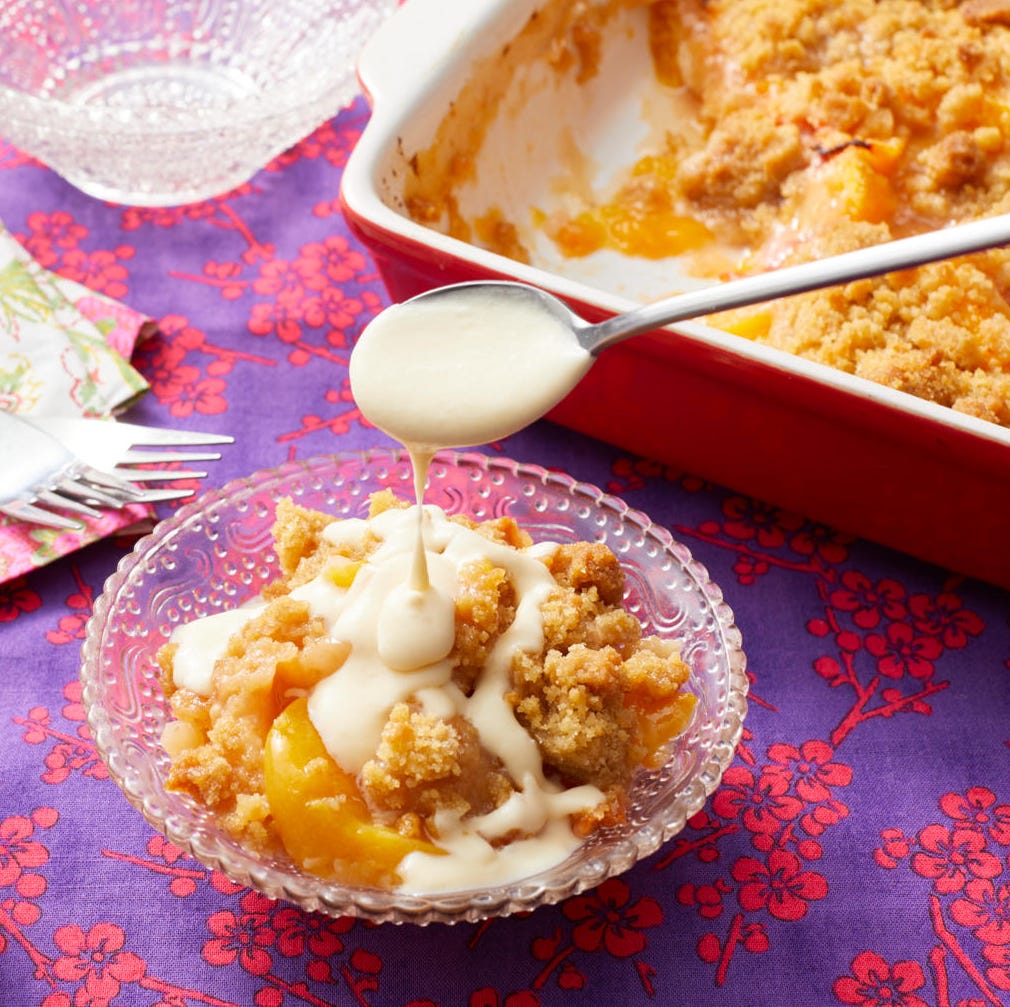 Mango Sago
Mango sago is a delightful dessert pudding that has gained popularity across Asia, from China, Singapore, Malaysia, Guangdong, to Taiwan. In recent times, with the rise of local Asian dessert shops, it's also becoming a favorite in North America. This delectable treat is crafted with a handful of simple ingredients, including sago (mini white tapioca pearls), ripe mangoes, coconut milk, and sweetened condensed milk. Some variations may include pomelo pulp for added texture and flavor.
Mango sago is an exquisite tropical escape. It charms your taste buds with its sweet, fruity essence, and the creamy goodness adds to the indulgence. Served cold, it becomes a refreshing and uplifting dessert, offering cool relief, especially on warm days. Whether sipped through a straw from a cup or savored with a spoon in a bowl, this dessert delivers an exceptional and enjoyable experience.
Mango sago is fresh all the way–it steers clear of artificial flavors and sweeteners. Instead, it relies on the essence of fresh mangoes, providing natural fiber, sweetness, and unparalleled flavor. The sago, once cooked, transforms into a transparent, jelly-like consistency, forming a harmonious pairing with the mangoes.
Making your own mango sago as a restaurateur or caterer is a budget-friendly and straightforward endeavor. While it may take a bit of time to cook the mini tapioca pearls, the actual prep requires only a few minutes.
With its simplicity, freshness, and affordability, this delightful dessert is sure to win your heart and taste buds over.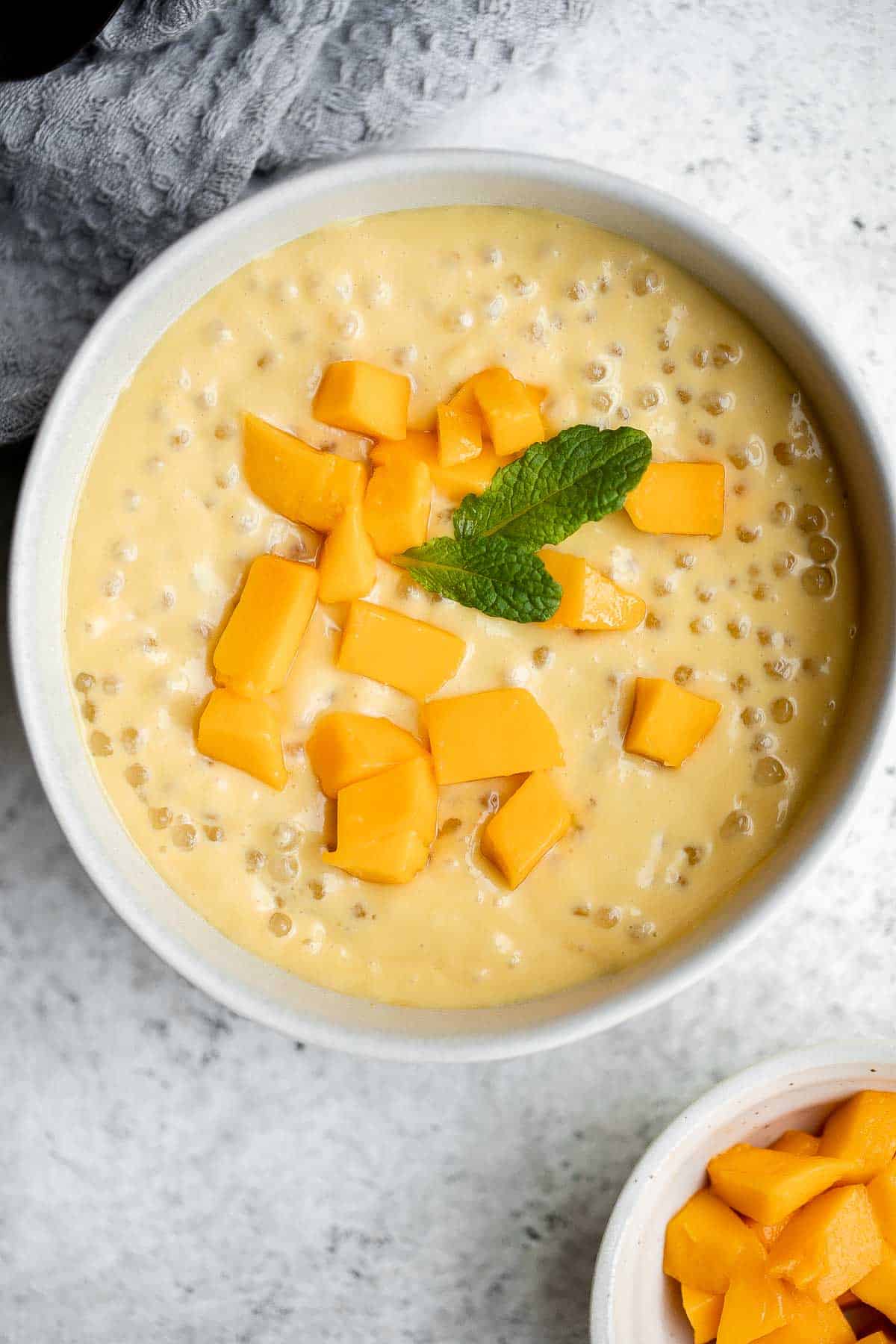 Dessert Delights to Beat the Heat
Here at Schenck Foods we've got all the right high-quality  ingredients to help you get what your guests and customers are craving this summer. We're talking about everything to make colorful fruit tarts, ice cream, sago, and much more. 
Don't hesitate to reach out to ask a question, request special ingredients, or take advantage of our $5 delivery for all orders over $250. That's even better than pie and ice cream.