Did you feel the coolness in this morning's breeze? And hear the sound of crickets chirping last night? Harvest season is coming. And if you're a restaurateur or caterer in the Winchester of Virginia, you know that a plethora of fresh produce is already available in droves. 'Tis the season for ripe peaches, crisp cucumbers, and so much zucchini that no one can give it away! So, what to do with this overabundance of seasonal goodness? A good pickling recipe might just be the answer. 
But before we dive into pickling recipes you should consider trying this summer, let's look at what pickling is exactly. 
What is Pickling
Most simply, pickling is a food preservation process that involves submerging a food like cucumbers in an acidic solution like vinegar or a salt-water solution. Pickling may date back as far as 2400 B.C. when archeologists believe ancient Mesopotamians used this process to preserve food. Greats of history like Cleopatra, Julius Ceasar, and Thomas Jefferson have all enjoyed pickles. 
And people consume pickles all over the world from here in the US to China to Norway. 
Pickling is accomplished through two methodologies: 
Vinegar method

Fermentation (saltwater) method
The vinegar method is very commonly used today. Briefly, the acid in vinegar preserves the food as long as the acidity level in the vinegar is 5% (very important!). 
The fermentation method (think kimchi or sauerkraut) involves placing certain food in a saltwater solution that causes the sugars in the food to break down and create lactic acid, a natural preservative. This method takes a few days to complete. 
For food safety reasons and to avoid deadly botulism, it's very important to exactly follow a tested pickling recipe and use up-to-date canning methods. 
For more information on pickling, we recommend this article from House and Homestead. The National Center for Home Food Preservation offers essential information on how to safely pickle food as well as this article from the University of Minnesota Extension. 
Most Popular Foods for Pickle Recipes
The cucumber has to be the quintessential food for pickling. And who doesn't love biting into a cool, crisp dill or sweet pickle on a hot summer day? But pickling isn't limited to this beloved fruit (Yes, it's a fruit, not a vegetable. Or so Google says.). 
You can use pickling recipes to preserve a wide variety of summer and fall produce! Some of the more popular varieties of fruits and vegetables for pickling include: 
Onions

Peppers

Hot peppers (like jalapenos)

Beets

Eggs

Asparagus

Watermelon rind

Cabbage

Okra

Carrots

Zucchini

Yellow Squash

Green Tomatoes 

…and so many more! 
With so many options for pickling, no wonder a variety of pickling recipes exist ranging from the quintessential (like dill cucumber pickles) to the more exotic (pickled grapes, anyone?). Below, you'll find some of our favorite pickling recipes to try this summer. 
Pickling Recipes to Try This Summer
Pickled Peaches
This recipe from Southern Living sounds relatively simple as well as tantalizing. Peaches are currently in season in our local orchards so this is a prime time to preserve this summer flavor. They taste delicious when paired with proteins like fried chicken, tossed in a salad, or stirred into yogurt. 
Bourbon Pickled Jalapenos 
It is a truth commonly known to man that bourbon makes everything better. Ok, we made that up. But the combo of sweet and spicy with a kick of bourbon in this pickling recipe ought to make this popular spicy pepper even better. 
This particular recipe includes honey and a whole cup of bourbon to achieve an addicting flavor combo. You can find this Country Living recipe here.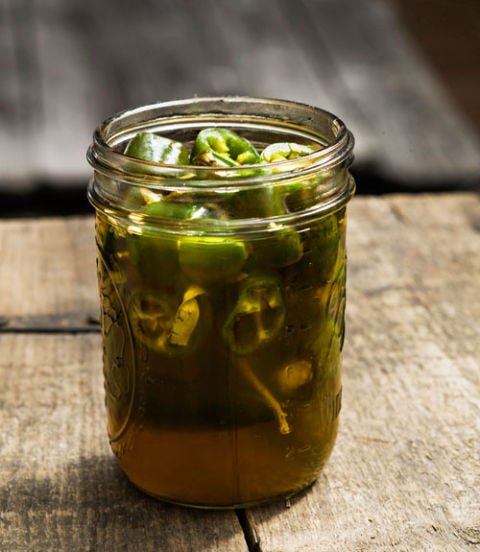 Pickled Sriracha Corn Relish
If you have corn coming out of your ears (Ba dum, tss) and you just can't eat it one more time on the cob, this pickling recipe from Better Homes & Gardens might be what you need to spice up this popular summertime vegetable. 
This recipe uses the heat from sriracha or gochujang to add a little kick to the relish. You can use it as a garnish on tacos, hamburgers, and more. Or just eat it on its own if that's your style. 
Squash Pickles
This time of year, you can easily find yellow squash and zucchini in farmers markets, grocery stores – even from your neighbor imploring you to please take some from their prolifically producing plants.
Squash is a versatile vegetable and pickling is one more way you can enjoy it. This recipe from The Spruce Eats works for both yellow squash and zucchini or both. The flavor profile is similar to the sweet bread and butter cucumber pickles. 
Trust Schenck Foods for Your Pickling Needs
Whether you're making pickles yourself or simply looking for a reliable supply of store-bought, Schenck Foods can help you meet your pickling needs this summer. We not only offer commercially made pickles, but we also provide ingredients for pickling as well. 
As a local wholesale distributor, we provide more than 5,000 items to more than 4,500 customers in the Winchester area. Wondering if Schenck Foods can help you meet your pickle needs? Don't hesitate to reach out!